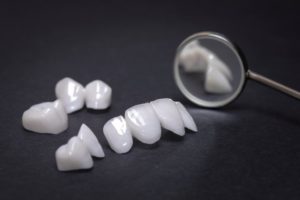 Advanced dental technology has made it possible to get the smile you've always dreamed of. One of the most popular dental cosmetic treatments available is veneers. They are a wonderful option to transform your pearly whites so you can feel vibrant and confident! These thin coverings of porcelain or composite bonding are a long-lasting solution for a range of dental imperfections. But which type would be best for your smile goals? Read on to learn more about the differences between porcelain and composite veneers.
#1: Materials
Porcelain veneers are ultra-thin shells that are placed over the front-facing surfaces of teeth. The porcelain used is dental grade, which is incredibly durable. Additionally, unlike your tooth enamel, it is non-porous, making them highly stain resistant.
Composite veneers, which are also called cosmetic dental bonding, are made from the same material as tooth-colored fillings your dentist uses to address cavities. This composite resin is more likely to stain and break than porcelain veneers, even though it does hold up well enough to last during normal wear and tear.
#2: Longevity
In general, if taken care of properly, porcelain veneers can last 10 to 15 years. Since a tiny amount of enamel is removed from your teeth to ensure that they adhere seamlessly, this treatment is considered a permanent change to your smile.
While composite veneers only last four to eight years, they do not require any permanent or long-lasting alterations to your pearly whites. If you undergo cosmetic bonding, you can decide whether you would like to continue with the cosmetic upgrade when they are at the end of their use; those with porcelain veneers will need to have them replaced at the end of their lifespan.
#3: Appearance
Both porcelain and composite veneers are custom color matched to your surrounding teeth so they blend effortlessly blend with the rest of your smile! Additionally, they both correct an array of dental imperfections, including minor alignment problems, discoloration, chips, cracks, gaps, and misshapen teeth.
#4: Process
Porcelain veneers require a bit more of a time commitment since they are so long-lasting. In addition to the small amount of tooth enamel (about half a millimeter) that is needed to be removed in order to perfectly attach porcelain veneers, you will then have impressions of your teeth taken. They will be sent to the lab to be created while you will be fitted with temporary veneers to protect your smile for a few weeks.
Composite veneers usually only take one appointment to complete your smile. Since there is no preparation required, your dentist will simply mold the composite material to your teeth and use a special light to harden it.
#5: Price
Since porcelain veneers are more durable and last longer than composite bonding, they will naturally cost more. The price can range from $925 to $2,500, but the average cost is $1,500 per veneer. Many dental offices will offer payment options, like CareCredit, to help you achieve your smile goals. On the other hand, composite veneers tend to cost anywhere from $250 to $1,500 per tooth.
In addition to considering these factors, a consultation with your dentist will help you decide which type of veneer will be best. Then you can begin the process toward a brighter and renewed grin!
About the Practice
Premier Dental keeps the smiles of Vero Beach beautiful and healthy through the expertise of their two dentists. They provide a full range of comprehensive dental services, including cosmetic procedures like veneers. By offering customized care, they can help you achieve any of your smile goals and needs. To schedule an appointment, contact them through their website or call (772) 234-5353.