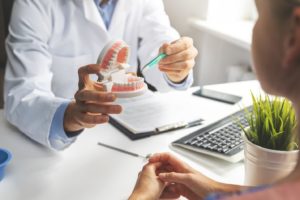 Dentures are among the most popular options for tooth restoration due to their natural look, serviceable functionality, and relative affordability compared to other solutions. But if you're hoping to restore your smile with this treatment, you might have questions about their expected cost. Here are three of the major factors that often contribute to the cost of dentures so that you can make the best decision for your smile.
1. Required Preparatory Procedures
Even if a patient needs dentures to replace missing teeth, sometimes it's not immediately a good option; in certain instances, a little bit of preparatory work is necessary first! This includes things like tooth extractions, gum disease treatment, or even a dental bone graft (if implant dentures are being placed). Needless to say, more preparatory work translates into a higher total cost of care; however, if these procedures are deemed medically necessary, insurance will often cover a portion of the costs.
2. Materials Used
When it comes to any type of dental restoration, especially dentures, the quality of the restoration is directly reflected by the cost. The least expensive dentures are made from brittle, plastic materials that wear down quickly with use. Cheaper options are also usually ill-fitting and uncomfortable. However, higher-quality dentures will utilize stronger, more realistic materials (like special acrylics) that are noticeably more durable and lifelike.
3. Type of Denture
There are various types of dentures used to address different situations, and it'll be up to your dentist to determine which best suits your needs. That said, the type of denture you need heavily dictates how much you'll spend. Here's more about some of the different types of dentures and their relative costs:
Partial dentures – These are generally used to assist patients who are only missing one or a few teeth; since they aren't quite as comprehensive as other options, they usually run a little cheaper.
Full dentures – Full dentures are used to restore entire rows of lost teeth and are also relatively cheaper, like partials. It's worth noting that they usually last 5 – 7 years before needing replacement.
Implant dentures – These are arguably the best type of dentures, in the sense that they rely on dental implants to provide unmatched support that their traditional counterparts can't match. That said, since dental implant surgery is a part of the process, they're the most expensive option.
You shouldn't let the apparent cost of dentures deter you from getting them if you have missing teeth; your smile is worth the investment! That said, knowing that factors typically influence the cost of dentures will only assist you in making the best and most informed decision for your pearly whites.
About the Practice
The team at Premier Dental is thrilled to provide patients and families in the Vero Beach, FL community with an exceptional level of care. They offer a wide range of treatment options including restorative services like dentures. If you have any questions about the article or would like to arrange a visit for you or a loved one, feel free to contact the practice online or over the phone for additional assistance: (772) 234-5353.