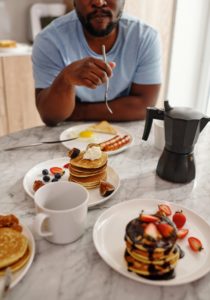 Dentures have been used for generations to treat tooth loss. They are an effective option to restore a complete, functional smile. Dentures are made from durable materials to withstand the pressure of chewing, so you can eat a variety of foods. However, you might have heard they can diminish your sense of taste. Although there's a connection between dentures and taste loss, your new set of teeth may not be the culprit. Here's what you need to know to savor every bite of your food. 
Taste Loss and Age
Your mouth has over 10,000 taste buds, but they don't just cover your tongue. You have taste receptors all over your mouth, which also work along with your sense of smell. The two senses send signals to your brain to enjoy the full taste experience.
Over the years, you might notice certain flavors become milder or disappear altogether. As you age, your senses of taste and smell become weaker. Research has found that flavor sensitivity is 49 times lower in the elderly than in the youth.
Dentures and Diminished Taste
Although tooth loss can occur in anyone, 1 in 6 adults over the age of 65 have lost all their natural teeth. Dentures are a tried and proven method to treat complete tooth loss. Many older patients may attribute their diminished sense of taste to their dentures, but it can be a combination of age and your replacement teeth.
Most well-fitting dentures won't have any effect on your ability to enjoy flavors. However, an upper denture that covers the roof of your mouth can affect taste receptor cells. You may experience some taste loss initially, but your brain will adjust to your denture over time and the sense will return to normal.
Denture creams and adhesives can also change the way food tastes. It's not uncommon for patients to have a lingering metallic taste. You can avoid it by maintaining your dentures to ensure a snug fit, so an adhesive isn't needed to hold your new teeth in place.
Your oral hygiene routine can also be to blame. Food particles and plaque buildup on your denture can contribute to altering the way things taste. Thankfully, keeping your mouth and dentures clean will ensure you enjoy the full flavor of your favorite meals and drinks.
You Have Options Many Options
If you're concerned about an upper denture decreasing your taste ability, you have many options available, like a palate-less prosthetic. It will have a horseshoe shape, like one used for the lower arch. You can also ask your dentist about adding the support of dental implants to your denture. Your dentist will review all your options to make the right choice for your smile and quality of life.
About Dr. Adam Jones
Dr. Jones earned his dental degree at the University of Florida College of Dentistry and continued his education to focus on prosthodontics and dental implants. He has the experience and qualifications you can trust to replace your missing teeth. Request an appointment through our website or call (722) 774-3463 for a consultation.