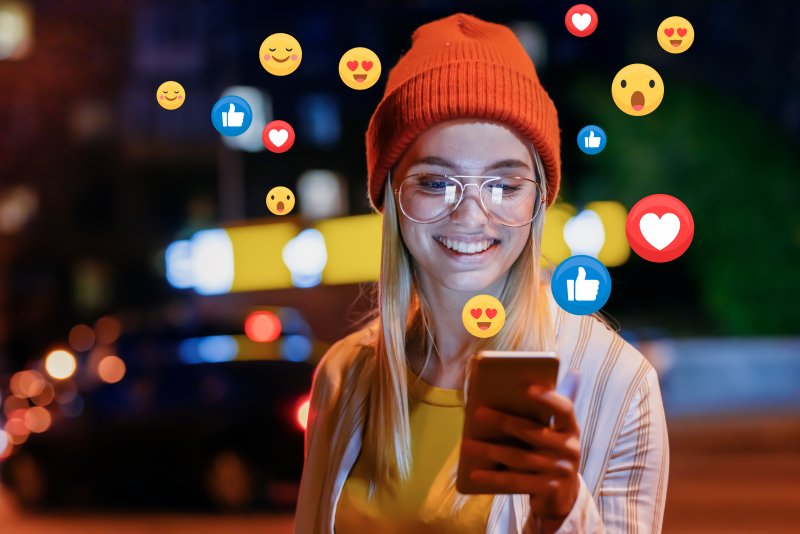 If you're looking for a perfectly straight, gleaming smile that's sure to impress, there's no better way to get them than investing in veneers. That may be why so many social media influencers have chosen to get them. When it comes to celebrities and cosmetic treatments there are way too many stories to tell here, but here are just a few of the most famous veneer transformations.
Gigi Gorgeous
Gigi is an influencer who's always taken her teeth seriously—in 2015 she was even a spokeswoman for Crest Canada, who wanted her for her gleaming smile (and her millions of YouTube subscribers). She had braces as a kid but neglected to wear her retainer and, in 2018, she noticed her teeth had started to slide out of alignment. Gigi decided to get veneers to correct the problem. When you look at her smile now, it's hard not to appreciate the number of problems that veneers can solve.
Cardi B
It's an understatement to call Cardi B an influencer, but with over 149 million followers on Instagram, it's also hard to say she isn't one. She also has never been shy about the surgeries she's gotten to improve how she looks. But when she was still coming up, she said the things she wanted to fix most were what she called her "baby teeth." On season 7 of Love & Hip Hop: New York, she showed off her brand-new set of veneers. Looking at Cardi now, it's hard to imagine she was ever insecure, but the veneers she got gave her some much-needed confidence.
Gabi DeMartino
Gabi and her sister got their start on YouTube, and have wound up with a huge platform, a massive following, and what some estimate to be a two-million-dollar net worth. Gabi decided to invest some of that money back into her business—that is, her smile. Thankfully, she happened to have dentists for her parents, so she knew just who to see about making her teeth as beautiful as they could be.
Of course, this is a short list of celebrities who've gotten veneers placed—you can spot cosmetic dental work on red carpets, in tabloids, and gliding across For You pages all over the world. If you want a smile that's sure to get attention, there's no better way to go.
About the Author
At Premier Beach, we guarantee that you won't find a more experienced, dedicated, or caring dental team anywhere else. We know that your smile isn't like anyone else's, so we won't treat you like just anyone else. From the first time you visit our office, our dentists and dental staff will make sure to truly understand your problems, and come up with personalized treatment plans to suit you. If you have any questions about how veneers can boost your influence, we can be reached at our website or by phone at (772) 234-5353.