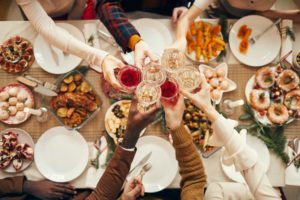 The holidays are full of wonderful times spent with family and friends, along with delicious meals and treats galore. Although food is a large part of most family holiday traditions, it's important for those who have dental restorations such as dentures or implants to be mindful of some of the most popular options. While they may be tasty, they can pose a risk to the upkeep and longevity of these dental prosthetics. Your Vero Beach cosmetic dentist has a list of certain goodies you might consider avoiding this holiday season if you have dental implants or dentures in order to keep them in good working condition. Keep reading to learn more!
What Holiday Treats Should I Avoid if I Have Dental Restorations?
Whether you have dentures that are removeable or implants that are not, there are certain commonly consumed holiday ingredients that don't mix well with these restorations:
Sticky Foods: Cookies, caramel, pies, sauces… you name it! These are all treats that you probably see a lot of around your home this time of year, but they can cling to your replacement teeth. This will cause difficulty chewing, which can lead to displacement.
Popcorn: During all of the holiday movies, games with the family, and decorating, popcorn is a popular snack to munch on. Although it is not bad for your overall health, the smaller un-popped kernels often end up in your mouth, putting your dentures or implants at risk for being cracked or broken.
Hard nuts or candies: Mixed nuts and candy are other dental restoration offenders that make frequent appearances around the holidays. The force that is required to bite down on them places excess pressure on the palate of your dentures or the implant fixture. If the stress is heavy enough, this can result in damage to the restorations.
Tough Meat:When it comes to dental restorations, it's best to avoid tough meat such as steak. Much like sticky foods, your teeth have to work overtime to chew when eating tougher meats, which can lead to instability or dislodgement of dental restorations.
Having dental restorations doesn't mean that you can't enjoy delicious foods with your family and friends throughout the holiday season, but it is important to be mindful of what you are consuming. One of the best things about this season is all of the options you'll have to choose from. So, head into the holidays with a plan to pick the treats that will be kind to your teeth and keep your smile in great condition!
About the Practice
Dr. Adam Jones and Dr. Giuliana Diaz Jones are the amazing husband and wife duo that lead the team of cosmetic dental experts at Premier Dental. Decades of experience with dental restorations make them your ideal practice in Vero Beach. They are passionate about giving each of their patients the smiles of their dreams in a comfortable and caring environment. Are your dentures and implants in tip-top shape for this holiday season? Request an appointment online or call us at (772) 234-5353.