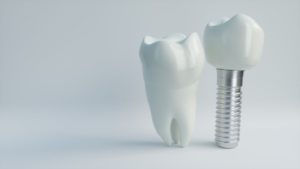 120 million Americans are missing at least one tooth, and more than 36 million don't have any natural teeth remaining, according to the American College of Prosthodontists. If you're included in these statistics, you may have heard of or even considered getting dental implants. After all, they can rebuild your smile no matter how many teeth you've lost. However, they often come with a higher price tag than alternatives like dentures or bridges. Does dental insurance cover dental implants? Continue reading below to find out the answer to this question as well as why dental implants are worth the cost.
Are Dental Implants Covered by Dental Insurance?
In terms of the services they cover, dental insurance providers are often quite selective. For example, they usually cover preventive care, such as checkups and cleanings, at 100% since avoiding oral health problems in the first place is much easier than treating them. Restorative procedures like fillings and crowns are partially covered, while cosmetic services are typically not covered at all.
Generally, insurance only covers the least expensive option when it comes to restorative care. Because bridges and dentures are cheaper than dental implants, they're more likely to be covered. Moreover, some insurance companies consider implants to be purely cosmetic, despite all of the health benefits they deliver.
Why Dental Implants Are Worth the Investment
Some of the benefits of dental implants over traditional tooth replacements include:
Being sturdy enough to not slip around when eating or talking
Restoring more chewing power
Potentially lasting for 30+ years
Being easy to maintain with daily oral hygiene and routine checkups
How You Can Pay for Dental Implants
If your insurance won't cover dental implants, you have other options. Most dentists can help you apply for low-interest third-party financing with companies like CareCredit. Some have an in-house savings plan, which gives you FREE preventive care as well as discounts on other services, which may include dental implants, in exchange for a low, flat annual fee.
Even if your insurance won't pay for the implants themselves, they might help mitigate other parts of the treatment. They may cover the cost of your consultation, restoration, or preliminary work like bone grafting or gum disease therapy. The best way to find out how much coverage they'll give you is to schedule an appointment with a member of your dental team. They can help you figure out how you can afford this truly revolutionary treatment!
About the Author
At Premier Dental, husband-and-wife team Dr. Adam Jones and Dr. Giuliana Diaz Jones are proud to offer comprehensive dental care to the residents of Vero Beach, FL and the surrounding communities. As members of the American College of Prosthodontists and the Academy of Osseointegration, they can place and restore dental implants in-house. Their practice is in-network with Delta Dental and also offers financing with CareCredit. They also have an In-House Savings Plan that gives you a 10% discount on most implant cases. To learn more about how you can replace your lost teeth with dental implants, visit their website or give them a call at 772-234-5353.