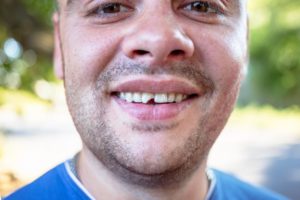 Have you just chipped one of your teeth? You might be tempted to not bother calling a dentist, especially if you're not in pain. You're probably thinking the tooth will simply repair itself; that's what happens when you break a bone, after all. However, teeth are technically not bones, and they don't quite work the same way. That's why you'll need prompt care from a dental professional. Read on to learn whether a chipped tooth can get better on its own and the steps you need to take in this situation.
Do Chipped Teeth Heal?
Although the discomfort associated with chipping a tooth might subside over time, the tooth itself won't heal without treatment. The outer layer of the teeth, known as enamel, is the hardest material in the human body – even more so than bone. However, this durability comes at the cost of being unable to regenerate after sustaining damage.
In short, your chipped tooth will not heal itself. You'll need to act if you want to repair your smile.
What to Do When You Chip a Tooth
Without treatment, the chip in a tooth might grow larger and end up causing even more lasting damage. For this reason, it's best to treat a chipped tooth as a dental emergency and call your dentist right away. While not quite as urgent as a knocked-out tooth, the team should schedule an appointment for you within the next couple of days at most.
If possible, locate any broken-off pieces of the tooth that you can and store them in a clean container with a secure lid. Don't forget to bring this container with you to the dentist's office! Until then, try not to chew on the damaged side of your mouth. To lessen any pain or swelling, you can take over-the-counter pain medications, such as ibuprofen, or hold a cold compress to the outside of your cheek in ten-minute intervals.
How Your Dentist Can Treat a Chipped Tooth
The treatment your dentist recommends will vary based on the extent of the injury and the health of the tooth as a whole. If the chip is minor, then applying a small amount of composite resin via dental bonding might be sufficient. For longer lasting and more aesthetically pleasing results, you may want to consider getting a veneer, a thin porcelain shell that completely covers a tooth's front surface. On the other hand, if the damage is severe, your dentist may suggest placing a crown over it to restore its appearance and function while saving it from additional harm.
A chipped tooth might not seem like a huge deal at first, but it won't get better on its own. Reach out to your dentist for the prompt care you need to have a healthy smile again!
About the Authors
Husband-and-wife dental team Dr. Adam Jones and Dr. Giuliana Diaz Jones are true experts when it comes to repairing broken smiles in Vero Beach, FL at Premier Dental. As certified prosthodontists with more than three decades of experience between them, they offer a number of restorative dentistry services, including crowns, to treat chipped teeth. They also provide same-day emergency visits, so if you have a chipped tooth, don't hesitate to contact them at 772-234-5353.