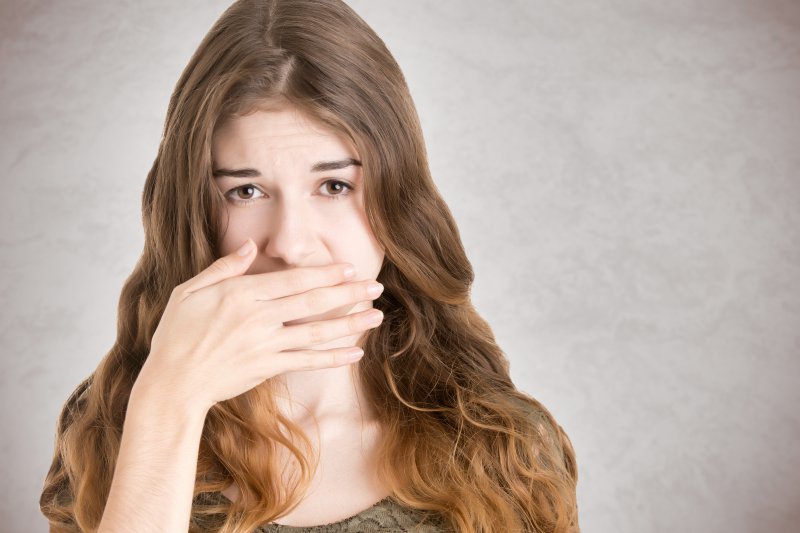 If you've just eaten a slice of garlic bread or you've been drinking coffee all day, you probably aren't too surprised when your family member cringes after speaking with you. However, if you just didn't eat any strong-smelling foods or just brushed your teeth, you should be concerned if your breath continues to smell. Foul-smelling breath even after brushing indicates something else is wrong.
According to your dentist in Vero Beach, these are a few of the reasons you have chronic bad breath.
Poor Oral Hygiene
According to the ADA, patients are recommended they brush twice a day with a fluoridated toothpaste for at least two minutes. They also recommend flossing at least once a day. If you don't practice these habits, then this should be your first step to reducing your bad breath. Halitosis (chronic bad breath) is a common symptom of poor oral hygiene, so start by adjusting your oral care habits if you notice chronic bad breath.
Additionally, those who have forgone oral care long enough may already be experiencing symptoms caused by cavities and gum disease. Chronic bad breath can also occur if infection, inflammation, or abscesses are present.
Treatment for chronic bad breath in this case may be as simple as changing your oral care habits. Make sure brushing your tongue is an integral part of your routine as bacteria tend to stick to it like a sponge.
If this doesn't reduce your bad breath, visit your dentist in Vero Beach to confirm no dental disease is present. If it is, they may recommend a thorough cleaning followed by placing tooth-colored fillings if decay is present.
Chronic Dry Mouth
It's much easier for bacteria to move and multiply when there is little saliva present in the mouth. Saliva doesn't just help you digest foods; it also washes away loose bacteria and food particles it feeds on. If you have chronic dry mouth, you're going to have bad breath accompany it as well.
Dry mouth can occur due to medications you're taking, regular tobacco use, or simply because you've hit a certain age. It can also occur from certain medical conditions like diabetes or nerve damage. If this is the case, ask your dentist in Vero Beach for a recommendation on what to do next. They can refer you to a general practitioner if necessary.
Oral Thrush
Oral thrush is another name for the infection Candida fungus. This condition typically occurs in infants, older adults, and people with diabetes or currently taking antibiotics. Along with chronic bad breath, you also may experience:
Loss of taste
Cracking in the corners of the mouth
Irritation or pain under dentures
Redness, pain, and minor bleeding upon contact with sores
Difficulty eating or swallowing
Your Vero Beach dentist says you should visit him every six months to keep your oral health in check. Schedule an appointment with him today to figure out the next steps for treating your bad breath!
About the Author
Dr. Adam Jones earned his doctoral degree from the University of Florida. Since then, he's earned his certificate in prosthodontics and developed his clinical skills in esthetic and implant dentistry. To learn more about his practice, contact him at (772) 234-5353 or visit his website.