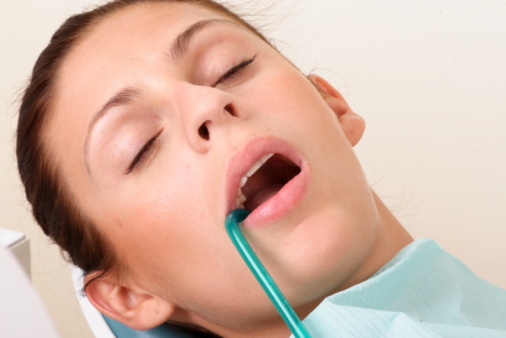 For some people, seeing the dentist is a scary prospect. Actually, it's more than some people: the Dental Organization for Conscious Sedation estimates that around 30 percent of the population avoid seeing the dentist. And going to the dentist can even be more than scary—some find the dentist's office so daunting, they'd rather ignore a serious problem than face a dentist. Doctors Adam Jones and Guiliana Diaz Jones at Vero Implant and Esthetic Dentistry in Vero Beach, FL, understand this fear. So, to help patients overcome their fear and have the dental treatments they need, the dentists and their staff offer two types of sedation dentistry: nitrous oxide and oral conscious sedation.

People have dental fear and anxiety for a number of different reasons. Some of our patients tell us about an experience they had at the dentist when they were children—an experience so unforgettable that it continues to keep them from trusting any dentist. Others are bothered by the sights and sounds in a dentist's office—the sharp metal instruments and the sound of the drill. Or perhaps a feeling of claustrophobia prevents some patients from sitting comfortably in the chair with the masked dentist and assistant close by. Whatever the reason, dental anxiety and fear are quite real and present a serious hurdle to overtake before needed dental treatment can be provided.
"Relax," says the Vero Beach Sedation Dentist
To help patients relax, Drs. Jones offer nitrous oxide and oral conscious sedation. The form of sedation dentistry that's most appropriate for you will depend on your level of anxiety. Many patients feel much better simply inhaling a measured dose of nitrous oxide, otherwise known as laughing gas. Nitrous oxide is blended with oxygen and administered through a nose mask that patients wear throughout their entire procedure. As you inhale this tasteless and odorless gas, you will begin to feel very calm and composed. While you relax, we'll able to complete the dental treatment you need. In some cases, we can complete several procedures during one appointment. When finished, we remove the mask and after a few minutes you'll feel like your old self again. You'll be able to drive and go about your normal daily activities.
Oral conscious sedation provides a deeper level of relaxation for patients whose anxiety is more pronounced. One of our dentists will prescribe a mild sedative pill that you'll take before coming to our office for your appointment. A word of caution: with this type of sedation dentistry, Vero Beach residents must have a family member or friend drive them to and from an appointment. When you arrive at Vero Implant and Esthetic Dentistry, you'll already be somewhat sedated. Lying back in the chair, you may feel ready to sleep. Many patients think they sleep through treatment with oral conscious sedation, but they are in fact awake and able to respond to questions. We'll monitor your vital signs with this sedation and make sure you're steady on your feet before leaving the office.
Call to Schedule an Appointment
If you haven't seen the dentist in a while because you're afraid, call Vero Beach Implant and Esthetic Dentistry and ask about our sedation dentistry services. Our beautiful Vero Beach, FL, office accepts patients from surrounding areas including South Beach, Florida Ridge, Gifford, Indian River Shores, and Sebastian.