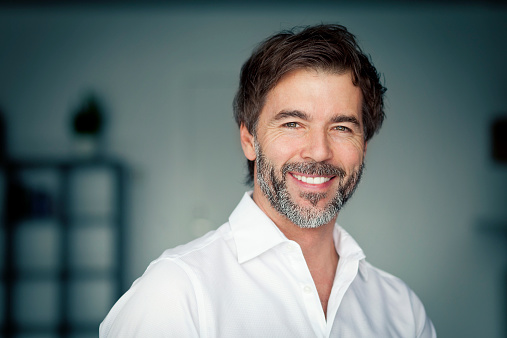 A prosthodontist is a specialist in dental prosthesis or replacement teeth. There are numerous tooth replacement options available for patients, and Dr.s Adam Jones and Giuliana Diaz Jones are both trained prosthodontists who offer you the best possible treatment and a variety of options to replace missing and damaged teeth. If you're in need of a Vero Beach prosthodontist to restore your smile to its natural look and feel, call Vero Implant and Esthetic Dentistry to schedule a consultation today.
Prosthodontist vs Dentist
All dentists hold a Doctor of Dental Medicine or Doctor of Dental Surgery, but prosthodontists receive 3 to 5 additional years of education and training in cosmetic dentistry, implantaology, crown and bridge treatment, dentures and temporomandibular join disorders. If you are missing one or more teeth, a prosthodontist is an expert in effective, esthetic dental restoration. You may want to consider seeking treatment from a prosthodontist if you have any of the following concerns:
Missing one or more teeth – especially front teeth as a prosthodontist is trained to perform full esthetic and function restoration
Dental trauma – we can help reshape your smile if a traumatic injury damages one or more of your teeth
Congenital conditions – cleft pallet and other congenital conditions that effect maxillofacial structure
Oral cancer reconstruction – after cells are removed we can help get your smile back
Dental implants – if you are interested in implant supported tooth replacement, a prosthodontist's are the expert practitioners
TMD/TMJ – as experts in maxillofacial treatment, prosthodontists can provide treatment for even extreme cases of TMD
Full mouth reconstructions – if you need most or all of your teeth replaced, getting an expert opinion can save you years of pain and suffering
Our Skilled Prosthodontists
Both our Dr. Joneses are keeping up with the latest in prosthodontic care, procedures, and technology. Dr. Adam Jones received his MS in Prosthodontics in addition to his doctor of dentistry. An expert highly respected by his peers, Dr. Jones has published his research on aesthetic implants. Dr. Diaz Jones holds specialty training in public health, prosthodontics, and implantology. Both Dr. Joneses engage in annual continuing education courses in order to learn the latest procedures. Dedicated to education, our doctors take the time to fully understand new procedures and technologies before our practice adopts them, so you are never the guinea pig.
Tooth Replacement Options
Vero Implant and Esthetic Dentistry offers a full range of tooth replacement options whether our patients are missing one tooth, an upper or lower arch, or need a full denture. As prosthodontists we're trained to provide tooth replacement that is the highest quality, and looks great too. We understand that dentistry shouldn't be one size fits all, and we work with our patients to develop treatment plans that fit their individual dental needs, time frame, and price range. We provide the following excellent tooth replacement options:
Prosthodontist, Vero Beach Always Here to Help!
If you're missing one or more teeth, you need to see a prosthodontist. Both of the Dr.s Jones a Vero Implant and Esthetic Dentistry are here to help you. Call to schedule an appointment today, or find out more about practice. Our beautiful Vero Beach, FL office accepts patients from surrounding areas including South Beach, Florida Ridge, Gifford, Indian River Shores, and Sebastian.