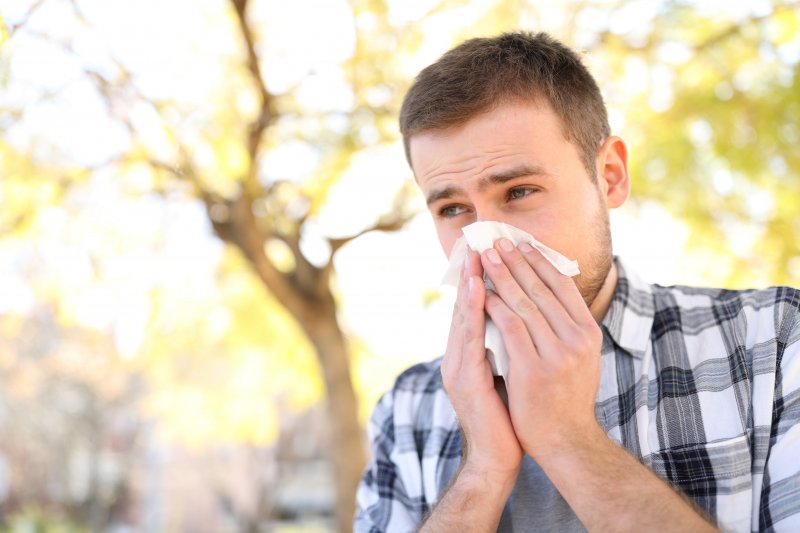 Do you enjoy springtime? With warmer temperatures allowing for more time spent outside, you can finally shed your winter coat and prepare for the dog days of summer that are right around the corner. But if you're like many others, you may be suffering from pollen, ragweed, pet dander, and other allergies that come this time of year. Treating your symptoms may seem easy, but if you're not careful, you could put your oral health at risk. In this article, we will learn how the medications you take to minimize sneezing, coughing, and a runny nose can potentially lead to tooth decay and gum disease. A dentist will also share what you can do to minimize your risk and better protect your smile this spring.
Allergy Medications and Your Smile: What You Should Know
When dealing with a runny nose, constant sneezing, coughing, and a sore throat, all you can think about is finding relief from your allergy symptoms. Unfortunately, many of the most common medications you will find on drug store shelves contain ingredients that create a breeding ground for bad bacteria and harmful acids in your mouth. Here are a few examples of what can happen when taking certain medicines:
Antihistamines: These can help to treat your allergy symptoms but will also lead to dry mouth. If your salivary glands are not working properly, bacteria can grow and spread, causing an increased risk for tooth decay and gum disease.
Lozenges and syrups: When treating a sore throat or cough, you'll naturally want to reach for a bag of lozenges or cough syrup. However, these often contain high amounts of sugar that can attach to your tooth enamel and eat away at the top layer of your teeth. Over time, if proper oral habits are not practiced, you can develop cavities, which will require dental fillings. If left untreated, you can be faced with more complex restorative treatment (i.e., dental crowns or a root canal).
Ways to Avoid Harming Your Smile During Allergy Season
Before you begin to think that you'll be left to suffer through allergy season without proper medication, there are things you can do to not only minimize and treat your symptoms but also safeguard your oral health. These include:
Buying sugar-free lozenges and cough syrups to avoid tooth decay and gum disease
Eating a healthy, nutrient-rich diet full of low-fat dairy, leafy greens, fruits, vegetables, and lean proteins, as these foods will help you maintain a healthier, stronger immune system
Buying a humidifier to reduce the possibility of dry mouth while you sleep
Drinking lots of water to keep your body hydrated and your salivary glands working
Maintaining a good oral hygiene routine that includes brushing your teeth twice a day, flossing at least once a day, and rinsing with an ADA-approved mouthwash
By keeping these tips in mind, you can more easily navigate your way through allergy season while better protecting your smile.
About the Authors
Dr. Adam Jones and his wife, Dr. Giuliana Diaz Jones are a husband-and-wife team who lead Premier Dental in Vero Beach. As dental professionals, they can treat a variety of problems and offer comprehensive services to help patients with all types of dental needs. As believers in preventive care, regular dental checkups and cleanings are pivotal to maintaining good oral health. Not only will they check and clean your teeth, but Dr. Adam and Dr. Giuliana will provide tips to help you get through allergy season without increasing your risk for tooth decay and gum disease. If you are suffering from pollen and other allergens this time of year, contact us at (772) 774-3463.